Handling Cat Sitting Predicaments (and Shenanigans!)
I read an article today on Conscious Cat about hiring a professional cat sitter. Ingrid King writes of her experiences with her cat sitter, focusing on the viewpoint of an actual cat owner who has used a cat sitter. Touching upon cat sitting predicaments, Ingrid recommends you ask a potential cat sitter pointed scenario-based questions. Great point! Anyone who has ever used a pet sitter can recall that first time, when hiring a pet sitter it either went really wrong or really right. If you've never used a pet sitter, by all means, study that article! Most professional pet sitters will say the reason they became a pet sitter was due to a poor experience with hiring a pet sitter for their own pets – we didn't have this article to help us!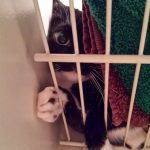 It's not always obvious to people that a professional cat sitter has policies and procedures in place that determine how situations are handled. I'm going to write a little about some of the what-if situations we encounter when pet sitting and how I handle them as your cat sitter. All of these situations have happened to me during pet sitting visits. Ingrid really got me thinking with her two example questions, so I'll start there.
Yikes! What does your cat sitter do if they can't find your cat?
How does your cat sitter handle a veterinary concern or emergency?
What does your cat sitter do if you're out of cat food?
What should your cat sitter do if water, power or gas is off, or there's a home utility problem?
What does your cat sitter do if there's been a break-in?
How does your cat sitter react if something of concern is happening in your neighborhood?
Here Kitty, Kitty!
If I can't find your cat, I do not panic. Cats often go off and have a deep slumber or maybe just don't feel like interacting that day/time/hour/moment. First I check food and litter box activity. If normal, chances are good the cat is not missing. I search known hiding places, and places I know cats to hide; under and behind furniture, appliances and closets. I'd bet 99.5% of the time, I find the cat asleep or relaxing quietly. That other 0.5% of the time, the cat has actually been in danger. The worst case I had was a semi-feral cat with big pie eyes, quietly stuck in the coils of a refrigerator. As a semi-feral, she was completely silent, so it took me a while to find and rescue her. She was absolutely fine, though terrified. In summary, I do not leave the home until I know where the cat is!
Sick Kitty Safety
Finding a sick kitty requires a triage approach to determine if the cat requires emergency attention. If I believe we have an emergency, I will transport kitty to the nearest open veterinarian. On the way, I will attempt every method of contacting you, and call your emergency contact as well. I know where all of the emergency vets are located, and most vets in both cities. I'm Red Cross Pet First Aid trained and foster cats with health problems so I'm very experienced at recognition of veterinary emergencies — and non-emergencies.
In all my years of pet sitting, I have probably transported 3 veterinary emergencies. I classify an emergency as the pet is suddenly struggling to live and with no warning. In every other case, I'd been able to notify the owner well in advance that something was going on. When I notice an issue, I watch for change and report to mom and dad. So yes, if your cat is in a life-threatening condition, I will head to a vet immediately, calling you on the way. Minutes count in these cases. Most likely, however, your cat will have given me time to let you know and plan a more organized veterinary intervention.
Captain, We're All Out Of Food!
Forgotten food purchases happen! If you run out of cat food, I'll replace the exact brand and flavor you have and I'll invoice you for it later. I'll ask you if you want to order it and have it delivered to the home if you're in CONUS. I won't let your angel go hungry!
Your Home Has Gone Awry
Home issues happen, too! If I arrive at your home to discover your power is out, your pipe has sprung a leak or your CO2 alarm is beeping and driving your cat bonkers, you'll be hearing from me. If you're not in a reachable area and the issue is pressing, such as a leak, I will contact your emergency contact. Always have an emergency contact or two, one day I may request they make a decision on your behalf. Part of having an in-home sitter is having an in-home watchdog!
911
The 911 call – if I arrive at a home and discover signs of a break in, I'll call the police first and then you or your emergency contact. When the police arrive, I'll find your cats after they've swept the home for criminal activity. If your cats have escaped, I'll reach out to my network of local animal friends to spread the word far and wide so we can get your babies back. We've got many tried and true methods of finding lost kitties and infinite patience. Quite likely, they'll hide deep in your home and come out within 12-24 hours.
The Shenanigans
Some kind of craziness is happening somewhere at any given time, and sometimes it's in your neighborhood. Be it random screams, naked people, toilet papering or tragedy – yes, all of these have happened on my watch – if it happens in your neighborhood, I'll tell you about it right away. I have a system which will email you or I'll text you (or even call if it's an emergency). I want you to have a worry-free trip, but at the same time, I don't want you to wonder why you didn't hear from me about something. You can get back to having a good time, knowing I've got you covered at home!