Timed Feeders Save Money and Sanity
Timed feeders are something I recommend all the time for my pet parents, whether their cats eat wet food or dry food or both. Begging cats are both a hilarious meme topic and also, let's be frank, quite annoying. We all love our lil purr-buckets, but seriously, they just ate like 5 minutes ago! I have timed feeders going for my cats all day every day, regardless of whether I am home. When I fail to preload my feeder, I pay for it! You can use your timed feeders if you are expecting to come home late for work, or if you'd just like to preempt the usual begging.
Clients are at a loss when they call because they want to schedule all the usual feedings, but who can afford that many visits a day? Enter your timed feeder. When I show up, I can preload 24 hours worth of small meals which not only keeps your cat on schedule, but saves you visit costs and nutritionally satisfies your cat family, preventing bile vomit, hunger driven pantry raids and the ever-lovable scarf-and-barf. This is especially important if you have a cat with kidney or liver disease, diabetes, irritable bowel and many other disorders. I can use these feeders to monitor who is eating and when and report back to you. Wet food stays fresh in these feeders due to air-tight compartments, and you can even use a small (provided) ice pack to maintain further freshness, though it's entirely unnecessary.
What To Buy?
You ready to go shopping now? I am going to show you some of the ones I recommend regularly, and the links I provide are by no means my recommended place to buy them. Shop around and find your best price! (Pro-Tip: Price check Petco and Petsmart online when you're in the store, often there's a price difference and they must price-match)
For Wet or Dry Food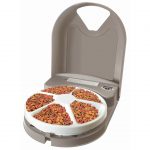 The Cadillac of timed feeders is the 5 compartment feeder. I have 2 of these myself – having cats on a wet food diet means they digest their food quickly and with my schedule and having diabetics in the house, I feed 5 times a day. The set it and forget it digital timer makes life a breeze, I just take out the tray, wash it, reload it and it rotates at the same times every day, keeping my perpetually starving fur-children happy and sated.
Have a quick look at it on their site.

Another excellent workhorse in the dry and wet food category is this flip-top model, also by Petsafe and available at most pet stores. Don't be tempted to buy one to use on both your cats. Each cat gets their own feeder or you'll have fighting or starving on your hands. Cats don't like to eat too closely to one another, no matter how much you might think they love one another!
Check it out here.
For Dry Food Only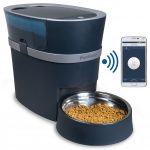 Get a load of this phone-driven model on Amazon!  Don't be distressed by the price tag on this sweet ride. There are lots of really good timed feeders out there dispensing kibble just as well without a phone. I would make note to ensure you've got a model that is stable enough to withstand the midnight zoomies or the diligent safe-cracker cats out there!

The Feeder for Thieving Cats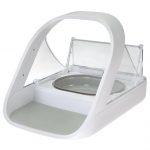 This feeder is not timed and may not work as well for wet food, but it certainly has the ability to keep thieving cats from raiding their housemate's food! It's collar controlled by reading the microchip in the collar, it will only open for the correct pet. I know, I'm totally geeked out, too. It's a little costly, but.. how cool! See it on Amazon here.

Automatic Feeders I Do Not Recommend
From crazy bacterial build-up to allergic reaction to stale kibble, I do not recommend any type of gravity feeder. It's like eating stale potato chips. Off the same plate. For 5 days in a row. YUCK.
There you have it, now you just need to go search "timed feeder" on any seller site you like and get yourself a …. who am I kidding? Get your CAT a new best friend!